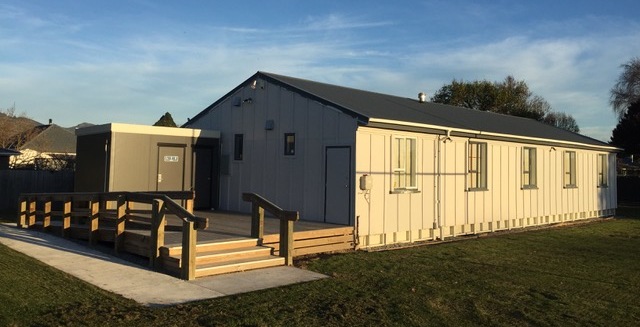 Latest News - 12 Jan 2020 -
Hi team!
Training for the year 2020 starts tomorrow. Same class hours:
General Classes (Mondays and Wednesdays)
Kids class 5:15 - 6:15 PM
Adults class 6:30 - 8:00 PM
Poomsae Class (Tuesdays)
6PM - 7PM
Sparring Class (Thursdays)
6PM - 7:30 PM
See you all!
End of Year Function 2019
Good day Team! Sharing you https://www.facebook.com/chcholympictkd/ of our sportive Christmas party yesterday. Thank you to all who showed up, participated and made this experience fun and memorable for both kids and adults! Nice to see big smiles and laughs from all of you! Wishing everyone a delightful holidays! Have a very Merry Christmas and prosperous New Year!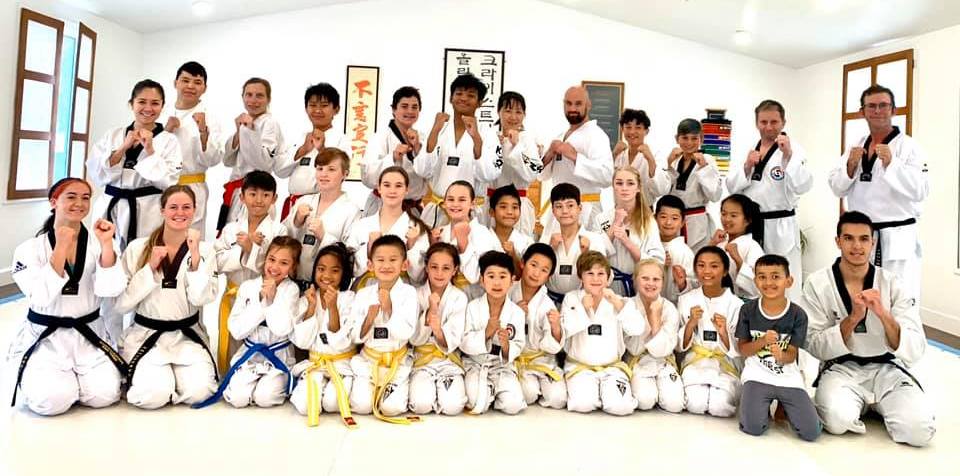 A massive congratulations to everyone who passed their black belt grading -
A massive congratulations to everyone who passed their black belt grading last Saturday (23 November). After a long strenuous and mentally demanding grading, all our six inspiring members achieved their black belts and degrees. Our current black belts Chris, Mary, Harrison and Chrissy advanced to their 2nd Dan degree black belt while Koro and Zac shall now be wearing their newly graded junior black belts. Awesome work you guys! You all showed physical and mental toughness and for that, you all a rock star!
The Christchurch Olympic Taekwondo team would also like to express gratitude to Grandmaster Vijay Cchika who took charge of the test. Your time, guidance and input of knowledge are very much appreciated!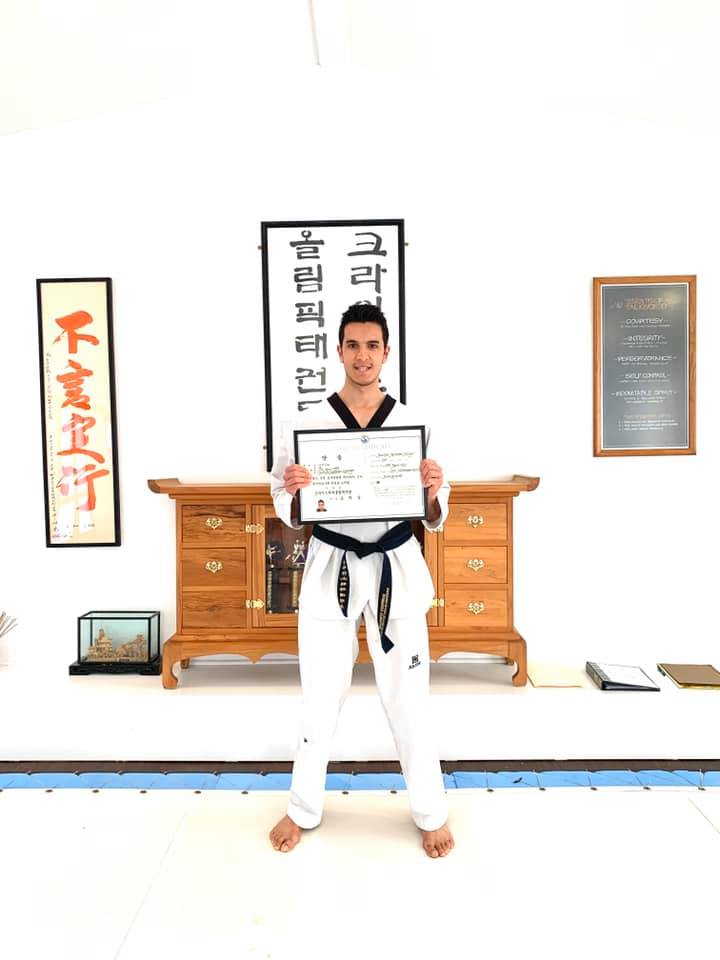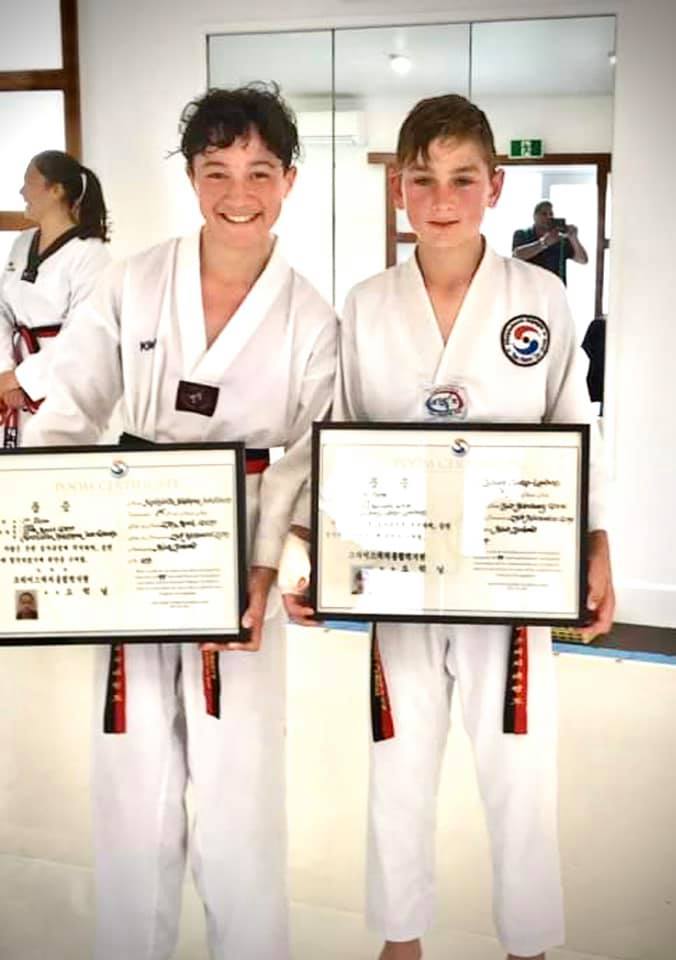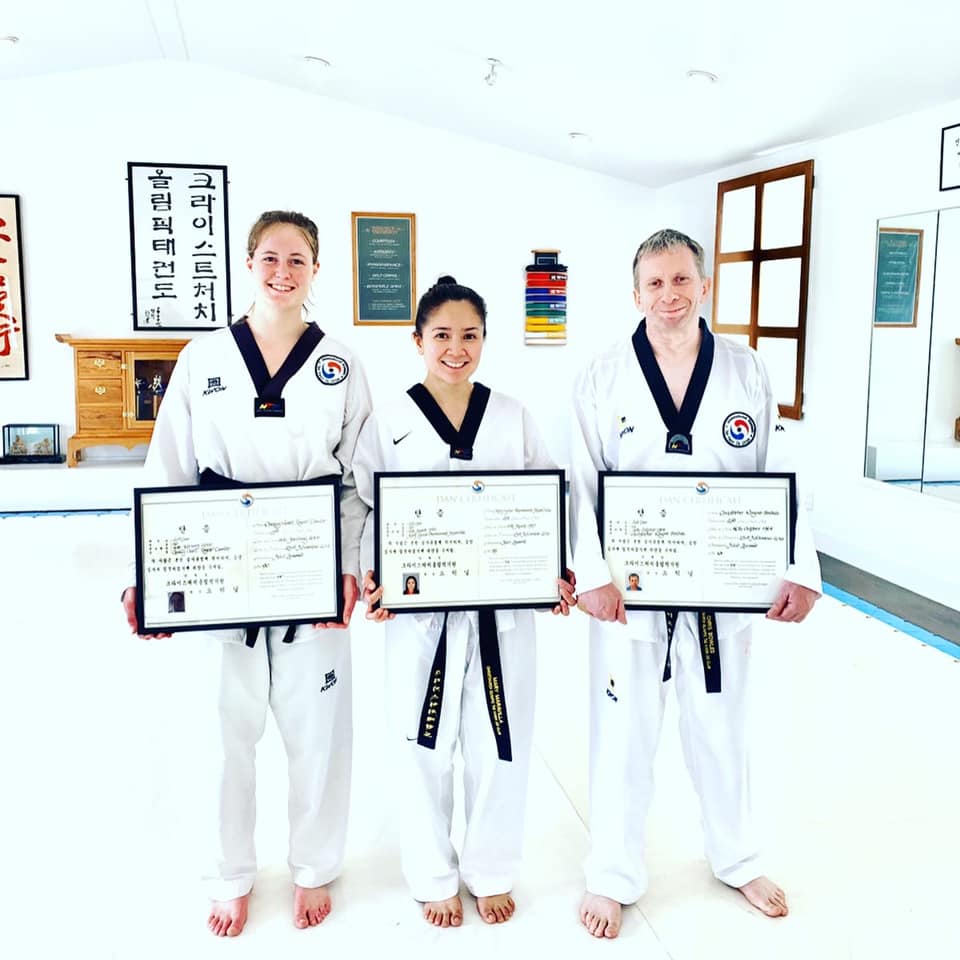 Join the club -

Information on club fees, training time and venue
Read More

or come along on a training day and introduce yourself to a blackbelt - start training today.
Caboolture Taekwondo Tournament in Australia in 2020 as part of a TUNZ "Black Kicks" Team.
Good afternoon Instructors, and those who registered their interest in going to the Caboolture Taekwondo Tournament in Australia in 2020 as part of a TUNZ "Black Kicks" Team.
*the tournament date has been locked in at Sunday, 7 June, 2020 (this is Queen's Birthday weekend in Australia) For Further Information - Go To EVENTS Page
If anyone else is interest, now is the time to let me know, and I'll get you on the list. More information as it happens!
Kind regards – Joan
Joan Fountain, Secretary
Taekwondo Union of New Zealand
Please note the following dates in your diaries for 2020.
*17-19 January, TUNZ Instructors' Camp, Palmerston North (Friday evening, All day Saturday, finishing lunchtime Sunday)
*21 March- TUNZ North Island Invitational Championships, New Plymouth (Saturday)
*30 May- TUNZ South Island Invitational Championships, Christchurch (Saturday)
*26/27 September - TUNZ Nationals Invitational Championships, Wellington (Saturday/Sunday)
*24 October (Labour weekend) – TUNZ Top of the South, Blenheim (Saturday)
Kindest regards – Joan
Joan Fountain
Secretary
Taekwondo Union of New Zealand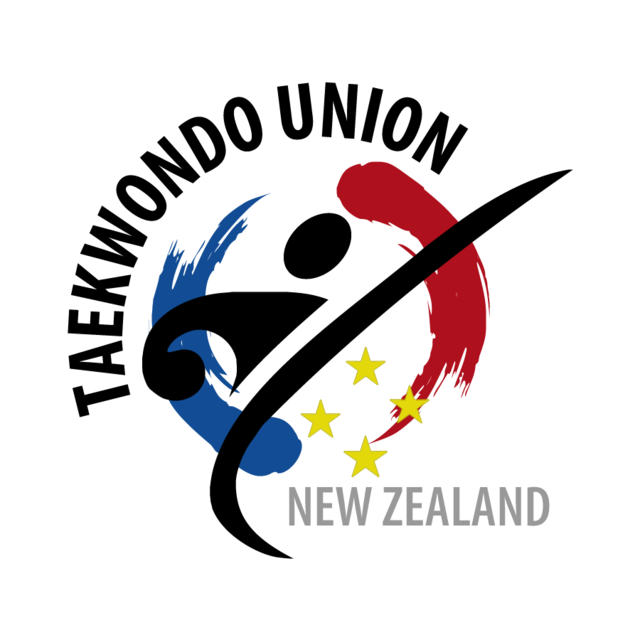 Australian Taekwondo has been awarded the Oceania Olympic Qualification Tournament for Tokyo 2020.

Competition will be hosted in Gold Coast, which staged last year's Commonwealth Games.

The event provides an opportunity for Oceania nations to qualify athletes for the four men's and four women's taekwondo weight divisions which will be hosted at the Olympics in Japan's capital.
Each nation is limited to a quota of two male and two female athletes.


Herning 2020 World Taekwondo Poomsae Championships
From "Herning 2020" the history will change because Poomsae will enjoy the same treatment as combat, both in Traditional and Free Style.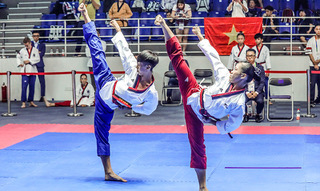 We welcome all comments and suggestions from our club members , the official club email address: chch@olympictkd.org.nz - or go to - CONTACT
Please email any updates, news articles, pictures, ideas for the Christchurch Olympic TKD club webpage to:
chch@olympictkd.org.nz
This is your webpage and through your contributions it can reflect differing aspects of our club, have different voices and share with others your experiences at training, grading, club activities and events.