NZ Taekwondo talent graduates to Olympics
One of the newest members of the New Zealand Olympic team says his mum inspired him to take up Taekwondo just eight years ago. In a quick rise to the top, 22-year-old Aucklander Vaughn Scott was today named in the New Zealand team for the London Olympics later this year, in the highly competitive under-80kg weight division. While his official Olympic ranking sits at 20, recent performances place him 11th in the Olympic field, good enough to pass the New Zealand Olympic Committee's over-riding standard of being top-16 material.
Scott will be joined at London by Beijing Olympians Logan Campbell (men's under-60kg) and Robin Cheong (women's under-57kg).The South-African born Scott, who trains on Auckland's North Shore, once turned down a junior NRL scout and also excels at soccer and basketball. Master Jin Keun Oh, national team head coach for Taekwondo New Zealand, said Scott has outstanding talent. "Vaughn is young and has improved fast in the sport," said Master Oh. "He competes in a very competitive division and in 2011 took on the world ranking No 3 player at the US Open. He lost by just three points. "At London, the Olympic medal will go to the most focused athlete, not the most experienced. Vaughn will be aiming for early impact."
Scott, whose mother holds a third-dan black belt in karate, said he will give his first fight his all. From 16 athletes in the Olympic first round, half will get knocked out. "I've got to treat every fight as if its my last." Scott moved to New Zealand when he was eight and said his mother suggested he try the sport as a 14-year-old. "She thought it would keep me out of trouble," he said with a smile.
With qualification taken care of, the three athletes now have Olympic medals in their sights and say a new electronic scoring system will help them achieve their goals. Campbell, who contested the under-58kg division in Beijing, said the change to electronic scoring at the Olympic Games is significant for New Zealand. "It's a huge leap forward as not only can they now record and score multiple points, any unconscious bias towards a higher-ranked athlete is also removed," he said. "We've got a good chance of bringing home a medal."
The team train with the new system daily at their Browns Bay dojang.
Vaughn Scott loses taekwondo repechage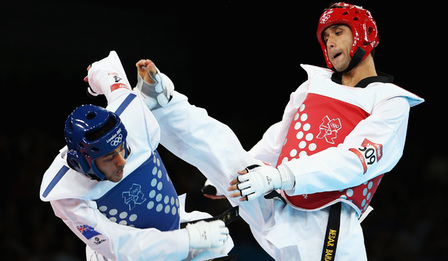 New Zealand's Olympic Games taekwondo campaign is over after Vaughn Scott lost his repechage fight in the men's 80kg class in London this morning. The 22-year-old Aucklander got a chance to fight again because his first round conqueror Argentina's Sebastian Crismanich qualified for the final. But Scott lost 11-6 to Afghanisatan's Nesar Ahmad Bahawi, scoring two points from offensive kicks and another from a defensive punch and three from penalties awarded against his opponent. Scott was the only of the three New Zealand fighter to get a second bout in London. Logan Campbell (men's 68kg) and Robin Cheong (women's 57kg) were eliminated in the first round earlier in the tournament. Crismanich, the Pan American Games champion, beat Scott 9-5 last night, dominating the first two rounds after a bright start by the Cape Town-born Kiwi. The Argentine beat Bahawi 9-1 in the quarterfinals and Armenia's Arman Yeremyan in the semifinals and will fight Spain's Nicolas Hemme Garcia, the 2009 world championship runner-up, for the gold medal later this morning.
Vaughn Scott loses first round taekwondo fight
Aucklander Vaughn Scott has become the third New Zealand taekwondo fighter to lose in the first round at the London Olympic Games.The 22-year-old Cape Town-born fighter, who took up the sport at 14, lost to Argentina's Pan American Games champion Sebastian Crismanich, 9-5 in the men's 80kg class.
Scott will be eliminated from repechage contention if Crismanich loses his second round match.Scott - ranked 18th in the world - went out aggressively from the start of the first round, taking an early tumble in his eagerness to score. He matched Crismanich, the seventh-seed, point for point with offensive kicks until the Argentine accrued a 5-2 advantage and added another to lead 6-2 at the end of the first round.
The Kiwi made another assertive opening in the second round, scoring a flurry of three points - two with an offensive kick and one from a penalty awarded against his rival - to crib back Crismanich's lead to 6-5. But the South American scored twice more to end the round, 8-5 ahead.
Crismanich, 25, scored the only point of a disappointing final round.Scott said his mentality was to "go hard out'' in the first two rounds "to see if I could get any points up''."I just give it my opponent and, if he doesn't like it, too bad. .. but it's kind of a hard fight when someone comes back to you with all those flying kicks as well. ''But he thought his bout went "really well''. "I have no regrets when I go out there. "It's just unlucky I didn't come out on top against an experienced fighter.'' Scott rated his first Olympics a "10 out of 10'' experience and said he was aiming for Rio in 2016.
"I'll train really hard for the next four years and try and fit in my [personal trainer] studies as well.''
Born in Cape Town, he came to New Zealand at the age of eight and took up taekwondo at 14 because his mother, a third-dan karate black belt, thought martial arts would keep him out of trouble. Scott turned down a contract with the New Zealand Warriors rugby league club to specialise in taekwondo but he said tonight he had no regrets about his sporting choice. New Zealand's other taekwondo Olympians, Logan Campbell (mens' 68kg) and Robin Cheong (women's 57kg ) were also eliminated in the first round.
Kiwi taekwondo fighters lose in first round
New Zealand has made a disapponting start to the Olympic taekwondo competition in London with both Logan Campbell and Robin Cheong suffering first round defeats. Campbell was bundled out 10-6 by Ukraine teenager Hryhorii Husarov in the under-68kg division. Campbell looked to have the fight under control but suffered two kicks to the head in the third and final round to lose 10-6 at the ExCel Arena. "I was looking good, it was just a pity I didn't cover those head shots," Campbell, 26, from Auckland said. "What can you do? I went out there, I had trained my hardest I did absolutely everything right to prepare. It didn't happen for me on the day." Cheong, too, had a bad final round. At one point she only trailed third seed Hedaya Wahba (Egypt) 7-6 but her opponent landed three three-point blows to take the bout 17-6. Potentially both Campbell and Cheong could get a second life if their opponents advance to the final, though in Campbell's case he knocked that prospect on the head. "He (Husarov) is definitely not going to go through against the world champ (Turkey's Servet Tazegul) which sucks because I would've loved to have fought the world champ," Campbell said.
GO TO LONDON
LONDON CALLING: Taekwondo exponents Robin Cheong (L) and Vaughn Scott have won selection in the New Zealand Olympic Games team.
One of the newest members of the New Zealand Olympic team says his mum inspired him to take up Taekwondo just eight years ago.
Our Olympic athletes have completed their training in New Zealand and are now on their way to London, via Korea!
Logan Campbell, Robin Cheong, and Vaughn Scott along with our Olympic Coach,Grandmaster Jin Keun Oh will spend the next two weeks in Korea as they finalise their training and preparation for the Olympic Taekwondo event being held in London during August.
Expect plenty of excitement at ExCeL when the Taekwondo competitors take to the court at the London 2012 Olympic Games.
The word Taekwondo translates into English as the way of foot and fist – an accurate description of the principles behind this Korean martial art. Powerful kicks and punches are, literally, the name of the game, which offers tension, drama and plenty of action.
THE GAMES + BEYOND Poomsaes at the ready Beginner's guide to Taekwondo
There are many advantages to taking up Taekwondo. The sport now has more than 60 million participants worldwide of all ages, shapes and sizes – and it's easy to see why.
Improved strength and stamina

Greater flexibility

Improved agility and reflexes

Higher confidence levels

Reduced stress levels

Higher levels of concentration and discipline